main contents
International Cooperation
Cooperation projects among braille libraries in Asia
In accordance with the Asia-Pacific Decade of Disabled Persons (1993-2002) of the UN ESCAP (United Nations Economic and Social Commission for Asia and the Pacific), the Japan Braille Library started projects to promote cooperation among braille libraries in Asia.
Computerized Braille production training workshops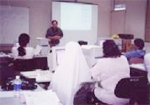 This project was started to promote production of braille books for persons with visual impairments in Asia. Workshops have been held every year in various regions in Malaysia. Participants were from libraries, schools for the visually impaired, and associations for the blind in neighboring countries. After the workshops, the participants received Duxbury transcription software, computers, and braille printers for production of braille materials in their local areas.
Since 2003, Malaysian staff has been dispatched to hold similar workshops at schools for the blind and institutions for persons with visual impairments in countries in the Asia-Pacific region.
Teruko Ikeda ICT training courses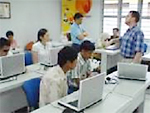 With the Teruko Ikeda Fund operations entrusted to the Japan Braille Library, an ICT training course was launched in 2004. Blind young adults from Asian countries are invited to the training site where they learn computer skills. Currently, intermediate and advanced courses are held every year. The participants in the courses are expected to share what they've learned for the betterment of their locality and improving the welfare of persons with visual impairments in the Asia-Pacific region.
The end of main contents