main contents
History
The Japan Braille Library was founded on November 10, 1940, by a 25-year-old blind youth, Kazuo Honma. At that time, the library held no more than 700 titles. Since then, it has grown steadily and begun training braille transcribers. In 1958, production and lending of talking books was started. The library has carried on through hardships and is now the largest facility of its kind in Japan.
It now possesses some 20,000 titles, both braille and talking books, and lends some 100,000 titles to more than 10,000 users annually nationwide.
The founder -- Kazuo Honma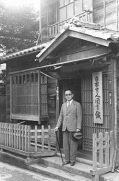 Kazuo Honma was born on October 7, 1915, in Mashike town in Hokkaido, to a wealthy sake brewing family which also headed the local fishermen's co-op. Around the age of five, Honma lost his sight due to cerebral meningitis and was admitted to Hakodate School for the Blind and Deaf when he was thirteen. There he encountered the world of braille and continued his studies at Kwansei Gakuin University, where he majored in English literature. Honma liked reading and always bemoaned the dearth of braille books. When he learned there was a braille library in London, and that it owned a collection of 170,000 titles, he decided to devote his life to founding the first braille library in Japan.
With braille transcription service advocated by awareness activist Seiko Goto, many classics from all ages and cultures were added to the library's collection. In 1943, the first braille library was established in a two-storey wooden building. However, the Pacific War interrupted its operations in Tokyo. In 1944, Honma evacuated, carryingthe library's 2,300 braille books from Tokyo to Ibaraki prefecture. Even during this hard time, the collection steadily increased and the following year, Honma moved back to his hometown, carrying 3,000 books. In the meantime, both the library building and Honma's residence in Tokyo had been burned down during U.S. air raids. Until two years later after the war, he had no choice but to lend out the braille books from the library's temporary home in Mashike.
Development of the Japan Braille Library
In 1948, the library was rebuilt in Tokyo in the midst of the ruins of the war and reorganized in 1952 as a social welfare corporation. In 1965, the Ministry of Health and Welfare approved the production and lending services of braille books as subsidized commissioned projects and the Japan Braille Library came into its own as the nation's central braille library.
In 1964, Honma visited the U.S. to attend the World Council of Welfare for the Blind and then toured Europe to obtain some 150 items useful for persons with visual impairments. This led to the start of sales of products for persons with visual impairments in 1966.
In 1983, the library started a reference service to expand on its information service.
In 2000, an "Information Network for Braille and Talking Books" was launched, through which all users including braille libraries, public libraries, university libraries, readers and volunteers nationwide can send and receive bibliographic information and braille data via the Internet.
Digitalization of the collection and distribution service
With recent advances in the information society, the library has put great emphasis on the digitalization of talking books. "Biblio-net" was started in 2003 to provide direct distribution of digitalized data on braille/talking books sent directly to users' computers. With this service, the library's patrons became able to enjoy reading whenever they liked without going to the library.
Currently, that service has been succeeded by a digital library system called "the Sapie Library", with more than 200 institutions and organizations subscribing.
The end of main contents