main contents
Sales of products for people with visual impairments
More than 1,000 items for persons with visual impairments are available through the productssales division of the library. Among them are items specifically produced for persons with visual impairments as well as general products with small modifications such as a tactile markings and/or braille on them.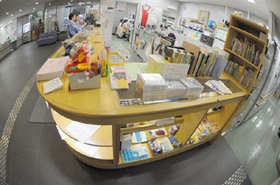 Sense of touch
Slates
Devices allowing persons with visual impairment to write braille. Along with standard ones (picture: left), small, colorful slates (picture: center) are fun to use and easy to carry.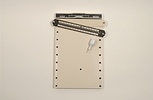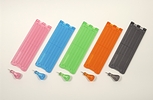 Watches
This wristwatch tells the time when users the touch hands and face of the watch.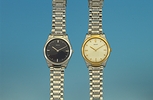 Sense of sound
In addition to touch, hearing also offers valuable support for persons with visual impairments.
Clocks
Speaking clocks are available. Time tones and alarm can be signaled by voice. The clock shown here vocalizes the date, temperature and humidity as well as the time.

Specialized player for talking books
A specialized device to play talking books in the DAISY format. Multiple talking books can be stored on one CD or memory card as the sound is compressed in the MP3 format.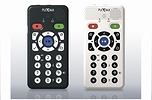 White canes
Various types of canes are available: for blind persons to detect the surface where they walk, for persons with low vision to indicate that to those around them, to support the body, etc.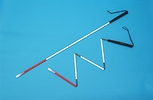 Other convenient items
Various products are available such as measuring cups, needle threaders, needles with a bigger eye, wallets with coin sorters, etc.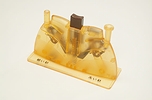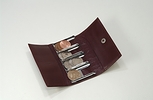 Products for persons with low vision
Various items are available such as magnifiers, CCTV, etc.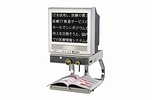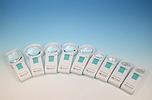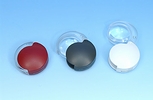 Toys
Playing cards and Uno cards with braille markings, Othello games with tactile chips, Rubik's Cubes with tactile markings, etc.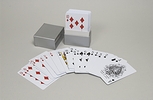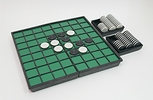 For details, please visit our website at http://yougu.nittento.or.jp/ (powered by Google Translate. Translation is not complete).
The end of main contents